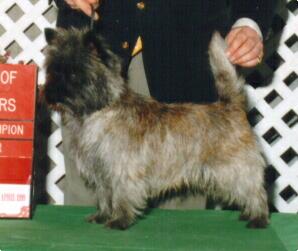 "Owie"
Owie is owned by Tom & Marie Qualres, tquarles@ix.netcom.com of Boulder Creek, CA. He was pointed from the puppy classes. Some of his first points was under Breeder/Judge Chris Carter during the Terriers Assoc. of Oregon Group Show weekend. He almost finished with back to back majors at the prestigious Kentuckiana cluster. I say "almost" because he was accidentaly nuetered before his last point was confirmed!! He was the third dog from his litter to finish and the 8th champion for his mother.

Owie has his father's effortless movement, with plenty of reach and drive, harsh coat & very nice head. Owie as born November 27, 1996.

This is Owie as a puppy.


Some things never change....is this too cute or what?!

This page has been visited

times since December 16, 1997


This page was last updated

March 30, 2002

[Home] [ Cairns] [Glen of Imaal] [Jack Russells] [Other Breeds] [Guestbook] [E-Mail]

The Fine Print:
© Copyright Rose Croft Terriers 1997/98/99/00
Web Design & maintenance by Jerrie Wolfe

©2000 - Jerrie Wolfe of all original written material unless otherwise indicated.
No part of the Rose Croft Terrier Web may be copied or re-used without expressed written permission.
Most graphics at the Rose Croft Terrier sites are original photographs and are the copyrighted
property of the original photographer. Graphics and photographs may not be copied,
distributed, sold, or used in any way without permission.
Rose Croft Terrier Web was established August 4, 1997
Disclaimer