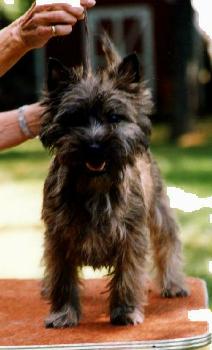 This is Piper at 8 months when he came to live with us
Since Piper is all English breeding, we have been waiting for Piper to finish maturing before he spends much time in the show ring.
He was show earlier this year by his co-owner (a first time in the ring for both of them), Piper won the Terrier Group at the San Joaquin K.C. Match and turned around and went Best in Match at the Northern California Terrier Association match the very same day.
Piper has sired two litter, first was out of Ch. Rose Croft It's the Jitterbug. A male, Rose Croft Shutterbug (Kody) was exported to Denmark and is co-owned with Berit Rosenfeldt, Lachleen. Kody has one CC in Germany so far. While he is in Denmark he will be shown in Norway by Eigil Karlsen, Kennel Kramer. While in Norway he will be bred to Nor.Swed. Ch. Kramer`s Benedicte.
A bitch from this litter, Rose Croft A Bug's Life is owned and being shown by Nancy Lunn of Iowa and is also pointed.
Born Dec. 8, 1997 -- RM228988/04
Breeder: Walter Buckowski
Owners: Jerrie Wolfe and Marci & David Rogers

Piper is GCL Clear

This page has been visited
times since August 2, 1998
This page was last
March 30, 2002
[Home] [ Cairns] [Glen of Imaal] [Jack Russells] [Other Breeds] [Guestbook] [E-Mail]
The Fine Print:
© Copyright Rose Croft Terriers 1997/98/99/00
Web Design & maintenance by Jerrie Wolfe

©2000 - Jerrie Wolfe of all original written material unless otherwise indicated.
No part of the Rose Croft Terrier Web may be copied or re-used without expressed written permission.
Most graphics at the Rose Croft Terrier sites are original photographs and are the copyrighted
property of the original photographer. Graphics and photographs may not be copied,
distributed, sold, or used in any way without permission.
Rose Croft Terrier Web was established August 4, 1997
Disclaimer