Urchin


Urchin is owned by Tom & Marie Quarles, tquarles@ix.netcom.com of Boulder Creek, CA. Urchin was Best Puppy in Sweepstakes at the Cairn Terrier Club of Denver Specialty when he was just six months and one day old!

He has a gorgeous head, plenty of harsh coat, level top-line and dark pigment.
Urchin won a 4 point major the day following the Terrier Assoc. of Oregon Group show, under noted Cairn Breeder/Judge Lydia Coleman Hutchinson.

His third major was earned at the Northern California Terrier Assoc.

Urchin is completely owner handled, mostly by Marie and a little bit of help from Tom.

DOB: Nov. 29, 1996

Urchin's pedigree click here.

If you have any questions, please feel free to contact me or the Quarles.

Click on the following names to see pictures of his litter mates Owie, Spencer or Patti go to see that they have been up to lately.

Stud fee: Private Treaty

Urchin's sire and dam are GCL clear.

Contact: Rose Croft Cairns

Urchin and friends at Vavra's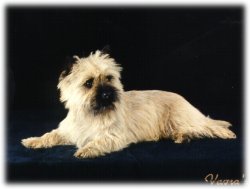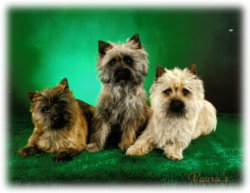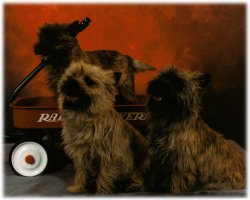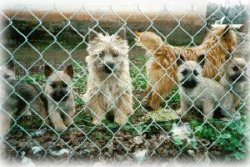 The Gang, just before they were ready to go to their new home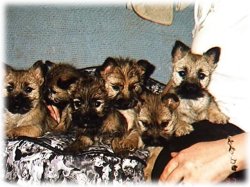 The entire litter at about 8 weeks old.
Marie and the boys; Owie on the left and Urchin on the right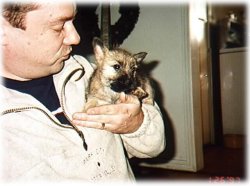 Tom and Urchin at about 6 weeks old. Tom and Marie would come and visit the puppies every 2 weeks while they were growing up.
We will update this site as soon as Urchin earns yet another title.
I understand that his CD and a Tracking Title are just around the corner!

This page has been visited
times since December 16, 1997

Urchin just earned his Junior Earthdog title on the weekend of October 30 & 31, 1999 with only two tries!!! Here is Sunday's Judge, Marie & Urchin, and Saturday's judge.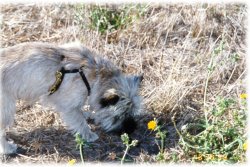 Marie has been training Urchin in Obedience and in Tracking. This is Urchin following a scent line.
This is Urchin and Tom taken the day that Urchin finished his Championship. He was Best Opposite Sex to his half sister. Both of them won over Specials. The judge is Mr. Richard Bauer.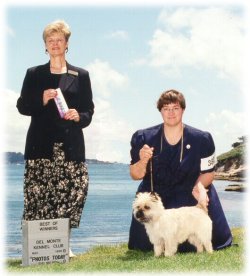 Judge Betty Ann Stenmark awarding Best of Winner at the Del Monte K.C. Show. This is one of my favorite shows. Both Riley and Teddy have won Best in Shows at this show.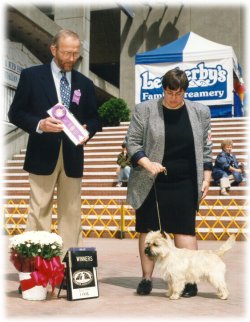 Noted Terrier authority Judge Robert Fisher awarding Urchin Winner Dog (a major) at the Northern California Terrier Assoc. Show.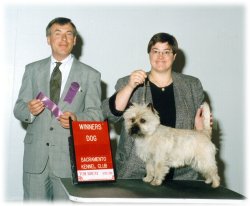 The following day at the Sacramento K.C. Show with judge Desmond Murphy
As a young dog winning Reserve Winner Dog at the Cairn Terrier Club of Northern California Specialty under noted Cairn Breeder/Judge Mildred Bryant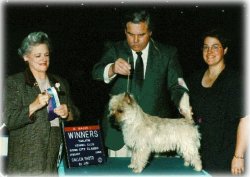 Noted Breeder/Judge Lydia Hutchinson awarding another Major win the weekend of the Oregon Terrier Assoc. Show
His First show at 6 months and 1 day old, winning Best Puppy in Sweepstakes under Breeder/Judge Pamela Pettus
When he is not winning on his own, he is being shown in a Brace with his brother Owie.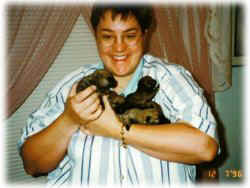 Marie and the new born puppies
This Page last
March 30, 2002
Disclaimer: The reader may download one copy for personal use, but any further dissemination of the article needs to be with express permission of the author.

[Home][CTCA Rescue & Breeder Referral][In the Movies][History][Responsible Breeder][Rescue] [Genetics & Health Issues] [Color Changes ][ Great Temperaments][Behavior Problems] [Links][Champions] [Photo Album][Meet Peter, Riley's handler][Grooming Day] [About Me] [Web Rings] [Awards] [Crests][TOC]

© Copyright Rose Croft Cairn Terriers 1997/98/99/00

Web Design & maintenance by Jerrie Wolfe